On Thursday April 18th at 7:30pm we will hold a Holy Thursday Worship Service at Emory United Methodist Church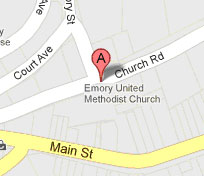 Our Holy Thursday worship service will have a retelling of the events of Holy Thursday including the last supper and our Lord's final hours with his disciples before his death on the cross.
Located high on a hill at 3799 Church Road in historic Ellicott City, sits Emory United Methodist Church where faith, community and history run as deep as the granite outcropping its built upon.
Join us for Holy Thursday Communion at 7:30pm, April 18th and Good Friday Service with Meditation starting at Noon on Friday, April 19th. Also join us on Easter Sunday for a 10:00am Traditional Service in our sanctuary.