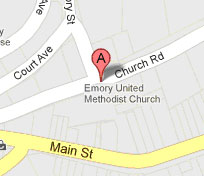 Located high on a hill at 3799 Church Road in historic Ellicott City, sits Emory United Methodist Church where faith, community and history run as deep as the granite outcropping its built upon.
Join us for Holy Thursday Communion at 7:30pm, March 24th and Good Friday Service starting at Noon on Friday, March 24th. Also join us on Easter Sunday for a 11:00am Traditional Service in our sanctuary.
Happy Easter! There will be an Easter Sunrise Service on Easter morning at 6:30am. Multiple churches of Ellicott City will be participating, including Emory UMC. It is a special time of worship and celebration and will be followed afterwards by a Community Breakfast at Emory UMC right around the corner. We hope you will join us!
8390 Main St # 1
Ellicott City, Maryland 21043